Could you add a RichEdit in LogWin for console output?

The most important advantage is the color scheme. You can highlight important messages and display them with different colors. This increases readability and really important things can be seen immediately.
Here is a picture to show the difference between the colorless ListBox and a RichtEdit.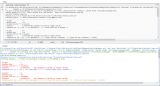 More advantages:
- Some formatting is lost in the ListBox, e.g. tabs are not displayed, but the text is written next to each other without gaps.
Example: "Hello world, this is a test." => "Helloworld,thisisatest."
- Line breaks in the ListBox create a new line, but if you open the result in a new document (button left of LogWin), there is an additional blank line between each line.
- Scrolling in the ListBox is delayed/has lag. Maybe this is better in the RichEdit better.
- ScrollBar for horizontal scrolling is not always sufficient. Sometimes the text goes further to the right, but you can't scroll there.
Professor Bernd.